Passerina the perfumed white wine of Le Marche
Le Marche, a Region in central Italy, makes incredible wines that from some years are conquering National and International Appreciation and Recognition. One of the most known wines of Le Marche is the Passerina, a white wine mainly produced in the Ascoli Piceno province in the south of the Marche region.
Translated the noun "Passerina" in Italian means "little sparrow",  a tiny, hardy, lively bird, with a nimble grace that allows it to make a place for itself in the world.

The passerina grape variety has ancient tradition of cultivation in Southern Le Marche that represent the Passerina's Heartland and a fair number of patches and pockets of the vine grow in vineyards scattered around northeastern Lazio, and northern Abruzzo as well.

Actually the Passerina, in Southern Le Marche, it has been always used as component of the DOC Wine, Falerio Dei Colli Ascolani, in 10 - 30% together with Trebbiano and only from 10 - 15 years, thanks to the vinification progress has been understood the great potential of a withe wine with Passerina in purity.

Passerina grapes, once called "pagadebito" (pay-debt) are relatively small but produce wines with high levels of perfumes, acidity and sugars which give a very clear, balanced wine, perfect for serving with fish dishes and poultry.

Aged only in steel tanks, this has very good acidity and offers a great deal of character for its moderate pricing

The wine is characteristically dry with aromas of flowers, wild herbs, almonds, dried pear, orange blossom and biscuit, this has lovely texture and a rich finish with a note of honey.
Increasingly popular with wine lovers both in Italy and the UK where you can try it at Osteria dell'Arancio or Rosso di Sera Restaurants in London.

See on tenutasantelisabetta.com
Centanni – Vini di Famiglia
See on Scoop.it - Wines and People


Situated in the hills just to the west of the town of Montefiore dell'Aso in the province of Ascoli Piceno in the region of Le Marche is the Azienda Agricola Biologica Centanni. Owned and run by Giacomo Centanni and his family, the Centanni winery produces approximately 110,000 bottles of wine/year using only grapes grown on Centanni's 32 hectares of hillside organic vineyards. As the title states in Italian, Centanni is a family owned winery whose products reflect the dedication and winemaking skill of the Centanni family.

Due to the late hour of our arrival, our tour of the winery was very brief. Senora Elisa Centanni, daughter of the owner, was our very knowledgeable hostess and tasting guide. She quickly showed us around the newly remodeled winery and ended the tour in the well equipped tasting room.
Centanni's products include red, white and rosé wines. They are the first winery in Le Marche to use the "tappo in vetro", literally the stopper in the glass, a unique replacement for the traditional cork which easily reseals the bottle if desired. In my brief exposure to this device, I was very impressed.

The first white wine offered for tasting was a 2011 Il Borgo Falerio DOC. Il Borgo is a 13% alcohol blend of 50% Trebbiano, 25% Passerina and 25% Pecorino. After the grapes are harvested by hand, they are soft pressed followed by an immediate drop in temperature via carbon dioxide to preserve the integrity of the fruit. Next is static decantation of the must and fermentation at low temperature. The color of the Il Borgo was a pale straw yellow, the nose light and fruity and the taste smooth and pleasant. It should be served at 10-12°C. I rated this wine an 86.

Our second white wine was a 2011 Passerina DOCG. This 100% Passerina wine is produced from hand picked grapes grown on rocky ground. After picking, the must is separated from the skins and cleaned without use of additional oxygen in order to preserve the grape aromas. Fermentation at 10°C follows for thirty days. When fermentation is completed, the wine is aged in stainless steel tanks for four months, filtered and bottled. The Passerina was a straw color, had a very fruity nose and a short and fruity taste. I did not rate it.

Third in the tasting was another white, a 2011 Pecorino DOCG. This 100% Pecorino wine shares the same fermentation details as the Il Borgo, but that is about all it shares. The wine was straw yellow in color, had light, subtle and slightly fruity bouquet and an elegant, long finish. This was an excellent white wine and I rated it a 90.
Mariano Pallottini's insight:
Read More Here: http://www.wineloverspage.com/duarte/centanni1212.phtml 
Aurora - Wines made by hippy-like comune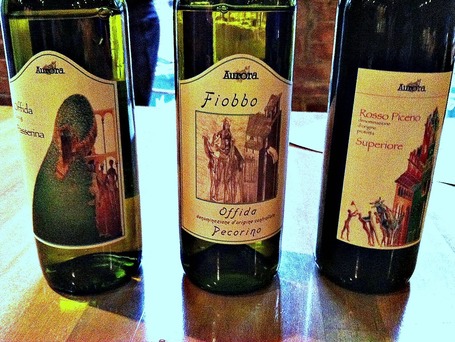 The Aurora wines from the Marche are made by a strange hippy-like comune done Italian style, with a focus on an entire 'utopian' approach to a self-sustaining lifestyle, including farming and winemaking. These are interesting wines but they will not win over newbies to the naturalist camp.
The 2011 Passerina (made with the so-named grape) was a low-toned orchard fruit wine, with a waxy moutfeel. It is interesting wine but lacks expression, focusing more on the textural experience. I was not enamored with this wine as it seemed to lack vivacity. $23. Good+.
The 2011 Offida Fiobbo (made with 100% Pecorino) is particularly delicious, though undeniably unusual. A very funk driven nose turns into a thick, unctuous waxy powerhouse of a wine, with noticeable oak influence on the palate that is filled with nuts and wax. Very Good to Very Good+. $31.
The 2011 Marche Rosso Superior was big and fruity. It's a tasty and accessible wine for the $32 it costs. Very Good.
Fermo Province Wine Tour
Discover what the Province of Fermo has to offers in terms of wine, here you have all the resources to do it.
Days (suggested): 4
Total km: 140
Wines: Doc and IGT Wines – Falerio(white), Passerina (white), Rosso Piceno(red), Offida(red and white), Marche (red and white)
What to see: ancient castellated hilltop towns.
What to do: shoe shopping (www)
Where to eat: www

Locator map of the province of Fermo, in Italy. (Photo credit: Wikipedia)
Best wines of Le Marche: Villa Pigna, Majia, Offida Passerina Doc

A blend of 85% Passerina, cleverly combined with Sauvignon Blanc, Chardonnay and Verdicchio.
Straw yellow with an elegant aroma. Clearly franc pome fruit aromas of fresh citrus over a slight yield of soft pear, with the rise of temperature are perceived exotic scents of pineapple, banana and mango. Nice perfume of white flowers and distinct floral taste. It goes well with shellfish, pasta with bivalve molluscs, grilled fish and cheese.
Le Cantine di Figaro, Ripatransone, beautiful Land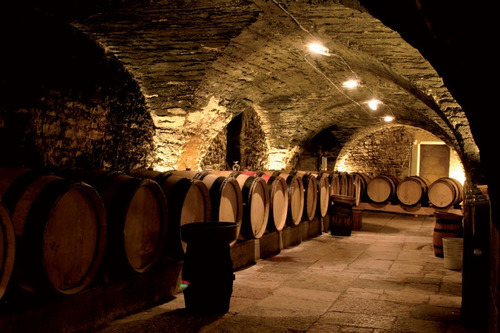 Le Cantine di Figaro winery is located in the Municipality of Ripatransone in the Marche Region of Italy and, in one of the most picturesque and well suited agricoltural area for wines, produces red wines from Montepulciano, Merlot, Sangiovese and Syrah grapes and whites from Pecorino, Passerina and Malvasia grapes.