Vongole with Pancetta - Claims with Bacon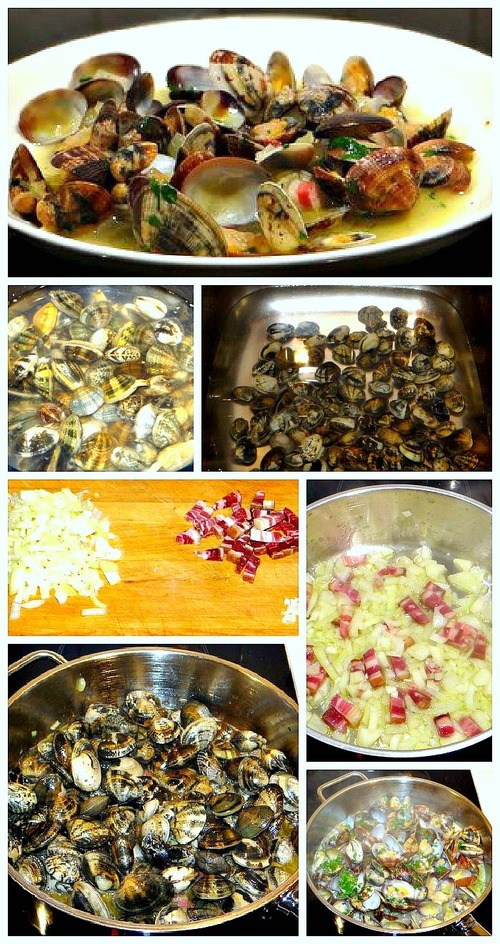 The combination of vongole with pancetta work well: the tastes complement each other. It is nice to serve with crusty homemade bread to soak op the juices, although those turn out quite salty. This dish has a lot of taste for the small amount of work involved.
This is good with any coastal Italian dry white. Since vongole are eaten a lot at the coast of Le Marche, a Verdicchio dei Castelli di Jesi would be appropriate.
Ingredients - For 3-4 servings as an antipasto
1 kilogram (2.2 lbs) vongole or other small clams

100 grams (4 oz) pancetta

1 onion

1 clove garlic

1 glass (100 ml) dry white wine

2 Tbsp chopped fresh flatleaf parsley

chili pepper flakes

2 Tbsp olive oil
Spaghetti alla Carbonara Recipe
For 4 people you'll need
150 grams of guanciale which is the cured cheek of a pig. It's not so easy to find outside of Italy, so you can substitute pancetta or cured (not smoked!) bacon.
100 grams finely grated aged pecorino cheese. If you can't find it, use the best quality parmigiano or mix it with pecorino Romano which is very salty.
4 freshest organic eggs.
400 grams spaghetti (the rule of thumb is 100 grams per serving)
Black pepper, freshly ground
Best quality olive oil.
Piselli e Pancetta - Peas and Bacon
Sweet peas have arrived at the farmers market, spring is here! Peas & pancetta - one of my favorite dishes that I only eat in Spring when the peas are bright & fresh. I can't get enough, I don't know if it's the peas or the pancetta - is it the green veggie or the fatty pork that I love so?! Maybe I should just have another spoonful…
Ingredients
serves 4
12 oz or 330 gr of fresh shelled sweet peas, rinsed
4 oz or 100 gr pancetta, bacon or guanciale, cured pig's cheek (omit if vegetarian)
1 small onion, sliced
1-2 cloves garlic
2-3 cherry tomatoes, halved
spoonful red wine vinegar
small handful parsley, chopped
tiny bit of mint, chopped (optional)
salt & pepper
extra virgin olive oil
Directions - click here    -   Via latavolamarche.blogspot.it
Pasta e fagioli - Pasta and beans
In many parts of Italy people are immensely proud of their thrifty food traditions and they have managed to invest an awful lot of great taste in project. Pasta and beans
Ingredients
400 g of boiled beans (white beans, chickpeas or – as in this case – cicerchie)
100 g pancetta or bacon
1 onion
1 clove of garlic
1 carrot
1 stalk of celery
10 dried tomatoes
Fresh rosemary, salt and pepper
300 ml meat stock
300 g pasta (preferably ditaloni but here it is cavatappi "corkscrews")
Preparation
Click on the photo