Out of Marche! Gubbio, former part of Montefeltro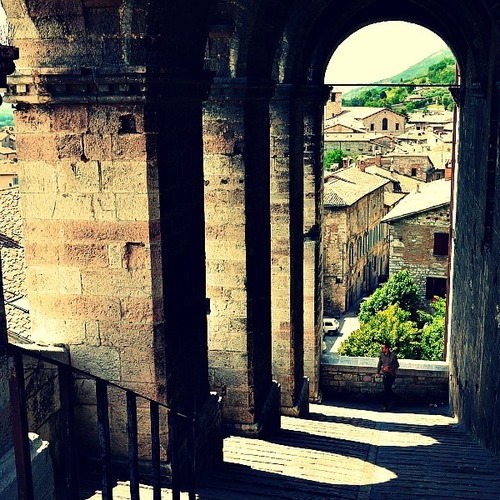 I have been thinking about the idea of having this blog focused only on Marche, and yes, it does make sense because Marche has so much to offer, but still, why keep it only to one region, once you consider that regions were introduced only in 1970 in Italy, while towns have a much much longer history than that?
Take Gubbio for example, it certainly does not belong to Marche, as it is a typical Umbria town, yet its history is entangled with the history of Urbino, one of the most famous Renaissance towns in Italy. Ruled by the Montefeltro family, Urbino is one of the best examples of what the 1500′s were in Italy. Even though a small town, it managed to conquer more and more territories, all the way to Gubbio, across the Appennines. In fact, the dialect here sounds more like the one of Ancona than the one of Urbino, but you can be certain everybody here feels a strong link to Marche. We are cousins, so to speak. So I thought, why not share my amazement at the beauty of Gubbio, just because it's outside my region?
That above is the impressive palace of Gubbio, which alone is worth a visit to this town, only 20 minutes away from Marche. Read all

See on marcheatopictour.wordpress.com